What is Kuroge Wagyu?
To start, beef cattle can be broadly classified into "imported cattle" bred and processed overseas, and "domestic cattle" or "wagyu" bred and processed in Japan.
All cattle that have been bred and processed overseas are considered "imported meat." On the other hand, cattle bred and bred in Japan are divided into "wagyu" and "domestic beef".
So why is it that cattle raised and meat-raised in the same country divided into wagyu (Japanese beef) and domestic beef?
Cows bred overseas and brought to Japan, are crossbred (F1) which is why they are classified as "domestic cattle". Only cattle breeds originally from Japan from ancient times are classified into different breeds of purebred "wagyu", including Japanese Black, Japanese Brown, Japanese Shorthorn, and Japanese Polled cattle.
The wagyu you see displayed at restaurants typically refers to "Japanese black beef".
Kuroge Wagyu has from ancient times been a meat with excellent quality and lots of marbling, and is considered to be one of the best-tasting varieties of beef. It is characterized by its fine-texture, tenderness and bright crimson red color.
In addition, the flavor of the fat is extremely refined, and the loin, in particular, is characterized by its fine marbling. It is highly regarded worldwide as an exceptionally high-quality meat.
In summary, there are very strict standards for Japanese black beef to be displayed as such, and the history and taste is clearly very different from "domestic beef".
This is our commitment that we have towards beef at Ningyocho Imahan.
Information on the Pork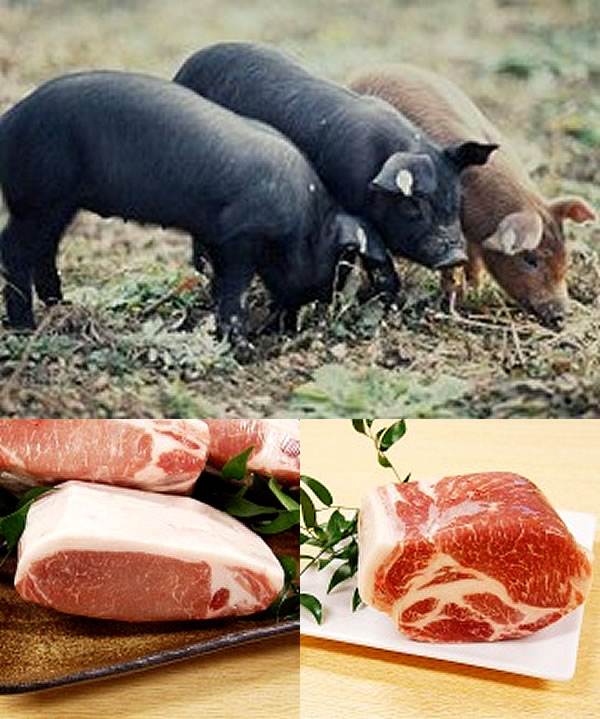 TOKYO-X


Produced in: Tokyo, Miyagi, Ibaraki, Gunma, Yamanashi, Nagano, Shizuoka

Characteristics:
A meat with just the right balance of lean meat and fat. The fat is juicy and has a very smooth palatable taste. The color of the fat is pure white and a mochi (rice cake) like texture which is not too hard and not too soft. The moderate amount of fat determines the moisture that the meat retains and ensures that the meat doesn't lose its juiciness, providing its juicy texture and pleasant taste. In addition, the taste is even further enhanced when heat is added, which gives it an elegant and unique sweet smelling nutty fragrance.

Available Locations:
Seiniku Honten (Butcher)・ Nihonbashi Takashimaya Store B1 ・ Ikebukuro Tobu Store B2 ・ Funabashi Tobu Store B1 ・ Shinjuku Takashimaya Store B1 ・ Tamagawa Takashimaya Store B1 ・ Kashiwa Takashimaya Store T B1

Yamato pork

Produced in: Gunma, Iwate, Yamagata

Characteristics:
-Fine and tender meat
-Sweet and pleasant taste of the fat.
-Even if cooked, there is no bitterness.

Available locations:
Kawaguchi Sogo Store B1 ・Attaka Sozai Suitengumae Store・ Shin-Yokohama Takashimaya Store 4F
Nadeshiko Pork

Produced in: Chiba

Characteristics:
-The pigs are fed an abundance of the "Odaka Enzyme", a famous health drink and beauty product enzyme made carefully from more than 50 kinds of vegetables and fruits.
-Fat is rich in oleic acid.

Available Locations:
Kashiwa Takashimaya Store B1
Country Pork
Produced in: Gunma

Characteristics:
-The fat has a light mild flavor the perfect balance with the lean meat.
-The pork doesn't smell.
-Firm and tender meat.

Available locations:
Ikebukuro Tobu Store B2
Cherry Pork
Produced in: Saitama, Gunma

Characteristics:
-Delicious fat with very little smell.
-Excellent flavor and tender meat quality.
-The meat is a brilliantly colored cherry blossom-like color.

Available locations:
Seiniku Honten (Butcher)・ Nihombashi Takashimaya Store B1 ・ Funabashi Tobu Store B1 ・ Shinjuku Takashimaya Department Store B1 ・ Tamagawa Takashimaya Department Store B1