Our Commitment
One major factor that determine the taste of beef is the types of fat it contains; "solid fat" and "soft fat". Beef that contains high levels of solid fat are visibly marbled and very attractive to the eyes. However, at Ningyocho Imahan, meat is not only selected based on appearance, and the restaurant is also committed to providing meat with plenty of soft fat. This is because soft fat contains an abundance of unsaturated fatty acid, which is the main component responsible for soft texture and umami. This, as a result, creates the low melting point of the fat and its soft texture that melts on the tongue. The primary selected beef is named "Ningyocho Imahan Japanese beef" and is provided to the guests as an original brand.
Once a month, all departments of the restaurants are required to conduct a process known as the "cleanness-check" for food safety.
Ningyocho Imahan's technology with beef, which includes the technique of aging meat, is one that has been refined over many years in order to bring out the most from the natural texture, flavor and beauty of its beef.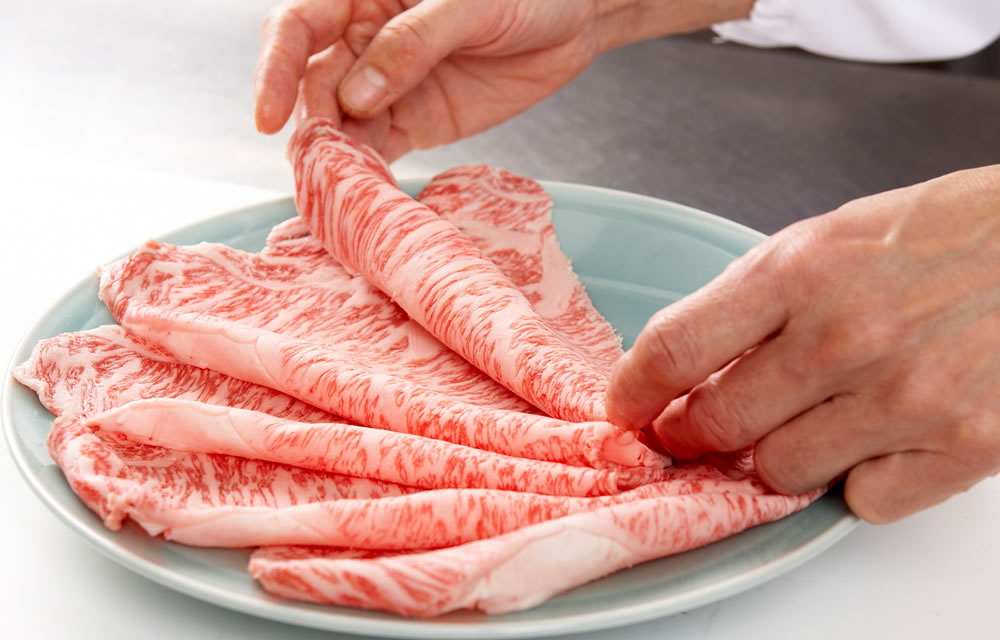 The type of Sukiyaki and Warishita - a Japanese sauce consisting of salt, sugar, and soy sauce.
Sukiyaki was created during the late Edo period. It is a Japanese meat cuisine combining sugar and soy sauce, which create a harmonizing taste of sweet and savory.
The cooking style of West Japan (Osaka and Kyoto areas) and East Japan (Tokyo area) are somewhat different. In East Japan, Warishita - a Japanese sauce consisting of salt, sugar, and soy sauce - is used to cook the meat and vegetables all together. In West Japan, the meat is cooked first to which sugar and soy sauce is added, then the vegetables. Instead of Warishita, Japanese sake and water is then added to adjust the taste.
Warishita is the "the sauce for Sukiyaki". The delicious flavors of Ningyocho Imahan's Sukiyaki not only comes from the beef, but is also hidden in the Warishita.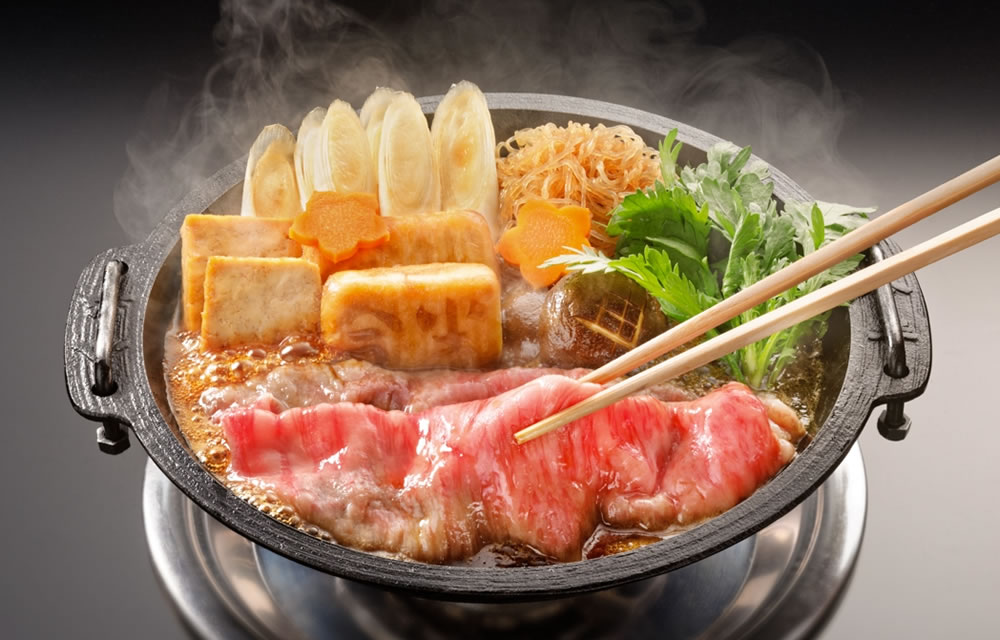 What is important to Ningyo-cho Imahan
Ever since its establishment, Ningyocho Imahan has strictly followed its "customer first" philosophy. This does not only mean treating customers with the best service possible, but also being committed to providing ingredients of the highest quality, of Japanese beef, vegetables, and Warishita for Sukiyaki, Shabu-shabu and steak cuisine.
This is how the restaurant gained its popularity from its customer base and grew to become the Ningyocho Imahan it is today.
It is the hope of all at Ningyocho Imahan that foreign guests also have the opportunity to experience the delicious Sukiyaki, Shabu-shabu, and steak cuisine it has to offer. Being fully booked almost daily, Ningyocho Imahan now puts its efforts into providing a reservation system so that it can better serve and satisfy customers in each of its locations.